Cuauthemoc, Mexico

June 11, 2006
We are on our way to build a house for a family. We got stopped twice trying to get into the border. Once while trying to get our temporary visas. Raul forgot his birth certificate so they would not give him one. We tried for some time to explain the situation but they were not budging. We met a nice lady that worked there, who spoke English, that told us not to worry because they normally don't check. We made the decision to smuggle him in otherwise he would have had to wait there for more than six hours for someone he knows to pick him up. Then we were stopped again because the truck that was pulling our trailer was not registered to haul a trailer. We ended up having to switch things around for a few reasons. After paying for papers to get cancelled and rewritten the right way we finally left, three hours later. We made it to Chihuahua, Mexico around 8pm and waited for someone to show us the way to the mission where we would stay the night. Three ladies and a boy got dropped off by a taxi so we shoved them in our vehicles. The mission was beautiful. Us ladies made homemade bean and cheese burritos for everyone. Their meal times are different from ours so we didn't eat until around 9:30pm.
We all had cell phone and calling card issues. The only person's phone that was working right was Ellis' so he let us tell our loved ones we arrived. I am sure it cost him an arm and a leg.
There was also a large group from Denver, Colorado staying at the mission with us. They were there to do Vacation Bible School with the kids at the orphanage we are going to visit tomorrow morning.

June 12, 2006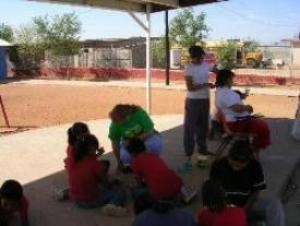 We arrived at the orphanage to find it rundown. I am sure to them it was nice. They have done a great job at making it livable for the kids. We brought them toys, clothes and art supplies. I had a large bag of stained glass stuff for them to paint and the kids just flocked to me with joy. They sat for twenty minutes painting with us. Their dorms lined the halls and they had community clothes, which means they all share everything. We ate breakfast at 10:30am. It was pork, potatoes, tortillas, beans, eggs and cheese. It was our best breakfast of the week.
Amber, bless her heart, is desperately trying to translate for us because we haven't met up with Ray yet. She was trying to tell the lady at the orphanage that we wanted to eat dinner on Friday at 6:30pm but ended up telling her we were going to the movies. Our trip has definitely made me more aware of wanting to relearn Spanish.
One thing I am having difficulty with is the toilets. You are not allowed to throw your paper in the toilet it must go in the trash, which I knew but had to retrain myself to throw it in the trash. Plus I am a germ freak and not the greatest squatter; our quads got a great workout. All in all the bathrooms weren't that bad except for one which I don't want to disgust anyone with those details. You also have to pay to use a lot of the bathrooms.
We finally arrived at the church where we will camp out. Calvary Chapel. The pastor Jorge is building a dormitory for missionaries to stay in when they come down. One room was done so us girls got to sleep on mats in there. Ellis and Dave slept in the church. Raul, Koda and Justin slept in there tents outside. After unpacking we went to Ray's mom's house. She painted it yellow because the Lord made the sun and it's beautiful. We bought some supplies and went to work. We laid down the forms for the cement. We dug ditches, dug up rock, nailed boards and then I got dehydrated. During our week whenever anything was hard or didn't go right we just said, "we're on a mission, suffering for the Lord." We met some very cute little boys. When we started to work out there all the little neighbor boys came to see what we were doing. Edgar, a boy I told was handsome, had a soccer ball so during a time when us ladies could not help we went into the street (rocky road) and played kick with about eight boys. They all seemed very excited that we were there. They were eager to learn and to help us learn. Also, while we were laying the forms out the men were trying to figure out whose way was best. Even thought Justin and Koda were in charge, Ellis did it his way and got it right. Koda learned the lesson of there is always more than one way to do things and maybe to have a bit more faith.
After dinner that night we all told our stories about how the devil almost made it impossible for us to be there. Dave's grandsons ran away before we came, Raul almost couldn't get into the country, Koda had permit problems with release from his car lender, Justin had lean holder issues, I had money issues, Ellis almost cancelled because of lack of volunteers and not having a hauling trailer and Madonna and Amber didn't really have any problems. But God made it possible.

June 13, 2006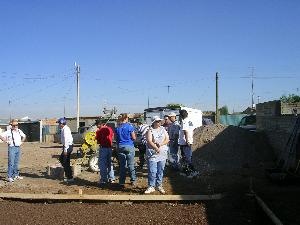 At the site we mixed cement by hand, framed walls and got sunburned. I had a wardrobe malfunction so I took the truck to go change. We worked on our Spanish with the kids. Us girls taught the boys how to snap their fingers. Raul and Koda played football with the boys. Madonna, Ray and Ellis went to get more supplies at the Mennonite village. They had to negotiate prices and then they wouldn't take credit cards so instead of paying extra to get cash from the bank they went somewhere else. On their trip they couldn't find the outlets that they just bought, almost got locked into the supply place and the rest of us at the site ran out of concrete. Ellis had all the money. We ordered more and Raul had to pay with his own money, Ellis paid him back later. Madonna's and my arms were sore from mixing by hand that we thought we wouldn't make it another day but by the grace of God we were fine the next day. Justin taught the boys how to lasso a rope. The boys loved it.

June 14, 2006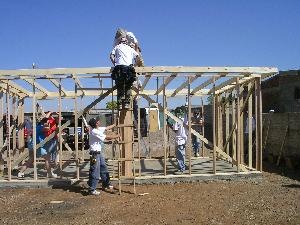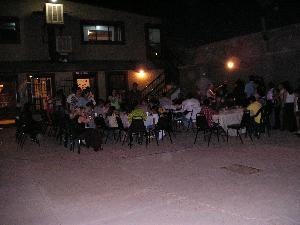 This morning I felt very useless after building one wall frame because I didn't know show to hammer nails into concrete. Many people tried to show me and got a bit frustrated with me but I still couldn't do it right. I was really emotionally drained today for a few reasons but mainly because of not doing my morning Bible study. By noon we had the frame walls, roof and Celatex up so we broke for lunch. Directly after lunch Justin sliced his thumb with a saw. Koda nursed him back to normal. We put in windows, then while a few people were figuring out the doors I went in to rest…Madonna ordered me to. Dave showed Raul how to wire high voltage in the house, and then he showed me how to wire the electric inside as well. The great thing was he was so patient with me and explained everything. We almost finished when Dave accidentally sliced his arm so I was his nurse. We got 99% of the wiring done and 50% of the insulation. The lady we are building the house for, Noami, her dad Oscar helped us build everyday. He hasn't really spoken to us until today. He was helping us learn new words in Spanish. After work we came home to get ready for church. When we arrived the Pastor Fernando greet us and showed us around. Fernando is the pastor of Temple Baptist. He is the pastor that found us a family for the home. He and the brothers from the church have been working out at the site with us everyday. Fernando and Ray (one of our guys) come up and translate for him. He had our group come up to introduce ourselves and then he started his message. He read from his Bible and Ray read from mine. Then Ray said, in Spanish, to the congregation "this is Sarah's first time on a mission trip, she is learning a lot, she is excited to tell everyone about it and is living in Christ." How amazing was that? I was a bit misty eyed! Our message was about living in Christ not for Him. Ray said those things about me as if to use me as an example of someone living in Christ. Here is the amazing part, I've seen others living in Christ but never thought I would be one of them and I understood what he said in Spanish!! After church everyone greeted us, we ate a massive but excellent dinner with the church and we fellowshipped. Fernando is an awesome example of a shepherd. I spoke with Noami and her dad with Ray's assistance. Koda and I spoke for a long time with Fernando and his wife. Fernando could tell Koda and I were missing our spouses so he insisted that we use his phone to call them. We kept it short though but both of us felt extremely refreshed by our phone calls. I thanked Fernando with tears running down my face which I didn't mean to do but I was overcome with joy for these people, their gracious attitude, the Lord's work in their lives and of course getting to talk to David, my husband. He hugged me and told me not to cry to make me feel better but I suspect also because men hate to see a woman cry. Amber has a new friend, Joel. He is a missionary in training with Fernando's church. They look forward to seeing each other everyday. They exchanged addresses and promised to keep in touch.

June 15, 2006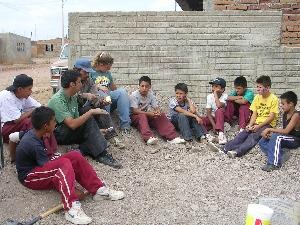 At the site, we started the morning by re-doing the guys portion of the insulation because they did it wrong. We girls put in insulation while the guys put the tar paper and chicken wire around the outside of the house. We were itching and so tired. Amber and I sat down to eat lunch; we were too tired to chew. I finally started eating while Amber slept in the dirt. There was this annoying fly that I kept telling to leave. Koda told me they don't speak English so I said, "lets go" in Spanish and it left. We started laughing so hard for about twenty minutes. We giggled all day long over stupid stuff. Oh while we were doing insulation I lost my balance. Madonna grabbed my arm, Amber grabbed my pants but I still ended up with a wardrobe malfunction, again. When we got to the site this morning a guy named Javiar, who has been coming around watching us, showed up and instantly helped. He volunteered all day long and at the end of the day 6:30pm Ray and Joel brought him to know Christ. Javiar found salvation! I told him in Spanish that he is my brother in Christ and my friend. After lunch I learned how to stucco the outside of the house. Around 2pm we pulled out toys and face paint for the kids. I painted their faces, which was a blast but got sunburned.

June 16, 2006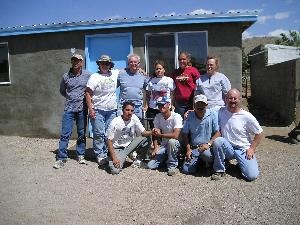 We finally finished. We arrived at 8am, finished the dry wall and the stucco. We painted the trim and built Noami a ramp because she is handicapped. I have learned so much from this trip and not just construction. The ladies of the church made us lunch then I had Ray help me talk to the pastor. I told Fernando that he is a minister to the people here and a minister to us as well. He is my brother and we are a family in Christ. We would like to take care of the churches needs. We gave him $100.00. He started to cry, Justin cried and Fernando hugged me. I told him that I cried on his shoulder Wednesday night now he can cry on mine. He said he remembered. Then we dedicated the house. We all said why we came to build the house, many of us with tears in our eyes. We thanked those who helped and prayed over Noami. We took some pictures, told everyone goodbye with lots of hugs and then left. All of us will miss of them. My heart is filled. I love it here and the people here have made us feel like family. Madonna told me at the site, "my body aches, I am in pain and tired but when Christ died on the cross He was in more pain than I will ever know so I am okay with my pain. I could never repay Him enough for what He did for me." We stayed the night with Nancy and Ricardo. They were wonderful hosts.

June 17, 2006 We are on our way home to a shower, clean pj's, our own beds and a lot of rest.