Cuauhtemoc, Mexico - Office space for Medical Clinic, Church and library.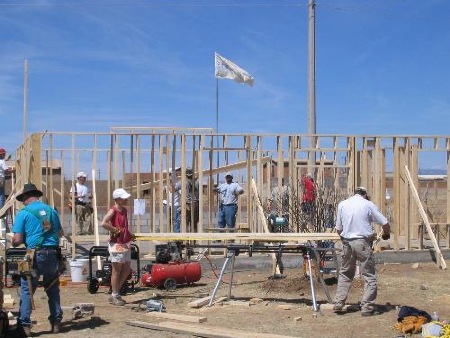 Troy's Short-Term Missions Journey

I went without really knowing what I desired from this trip. My life has been about service………….service to City, State and Federal governments. These 5 days would be specific service. Service to THE government, a spiritual citizen's commitment to their true commander and chief.

The ride down was sweet! Dan Luckenhoff, Mike Scarbourough, and Dan's friend Phil made for great conversation. Incidentally, Phil flew down from Idaho to participate in this short-term mission. The first day I cooked breakfast. After chow we gathered on the pad, prayed, and job assignments were distributed. I was assigned a leaders position for framing jobs. I had Mercyk, Adam, Jake, and a disgruntled teen from Sagebrush. I often say that one of the hardest things about being a leader is.....leading. That seems strange but when you have to adapt in unfamiliar waters you have to stretch quickly or fail. I have NEVER built frames on a house. Once I clarified from Dan how to do the job, my team worked together with only a few hiccups. All the teams managed to raise the basic frame and it was looking like a two bedroom house. By the end of the first day tears filled my eyes, as I observed each person, their function and commitment to the task.

Wednesday, the original teams dissolved as detailed work was now required of skilled workers with the remainder of us assisting them. Mike Scarbourough and I put on the two roofs, securing each support and placing on the OSB sheeting. I worked closely with Mike and Rich until the fine motor skills began to leave and my strength waned. Tears welled up several times this day, as the intensity, fellowship, and the common goal overwhelmed me.

Thursday, due to anticipated high winds, we got up at 4am. We loaded tools and were at the project 5am. We prayed with Justin (foreman), Phil, Lincoln, Dan, and me. The tears started early as we prayed early. Each man sacrificing self, his money, time and talents all for the Lord! As dawn's early light rose, the pollution from the distant brick fires crossed our path. Each man was driven and committed. Mike, Phil, Dan, and Lincoln are great mentors. Not one offered impatience to men like me who were common laborers! These were men I related to. Tougher that most, committed beyond measure, yet humble and willing servants to their CREATOR! Never was the suggestion made that any of us slowed them down or got in the way. Mike and I worked the roof as the wind gusts kicked up all the while wearing harnesses and relying on each other for balance, movement and safety. This day was the longest, and EVERONE accomplished more than we thought we could!

It is important to note GOD'S protection. Mike and I were occupying the same space and the nail gun he was using crossed the backside of my left hand. This of course would have caused major damage as well as the logistics of seeking medical care. Second, my "freefall" rappel left me un-broken with only a laugh and a "secret" between Mike and I that lasted about 5 minutes!

In Mexico, these men, didn't look for where the rubber meets the road. They instead found the road and RAN DOWN IT! Never giving up because they hurt, never slowing down, only pausing to give their LORD HIS due and requesting HIS blessing. I got what I never expected. Men not trumpeting their cause: only living their convictions, leading mentoring, and being faithful! I am humbled that GOD's grace allowed me to be in the presence of such men, accomplishing such task, for 5 days!